Blogging can be a great asset to a lot of different people for many different reasons. Blogging isn't just for businesses, after all! Many people have benefited on a personal, professional, and financial level from starting their own blog. When you're getting ready to start your own blog, there are many different things to consider, including the reason behind your blogging, and how to get started, and where you should set your blog up at. Let's dive right in to why you should start a blog before we tackle the biggest question: where to set up your blog.
---
Reasons for Starting a Blog
There are many reasons for starting a blog. Let's go over some of the reasons that you may want to consider this as your next project, whether it's a personal project or a professional one.
Blogging can help you reach out to the billions of people that use the Internet on a daily basis. (Google receives 5.6 billion searches a day!) It can help you promote either yourself or your business. It can really help you attract an audience because it can provide people something of value.
Having your own blog and writing about topics that are important to you can help you seem relevant to your audience. It can help you establish yourself as one of the authorities in a subject matter. This will help your professional image. After all, blogs are often times considered the new business cards.
Blogging can help you build rapport and therefore engagement. It can help convert traffic into actual leads and those leads can then convert into customers. It can help you warm up audiences for your 'cold calls'.
You have the opportunity to organize your thoughts when you're blogging. It can help you articulate yourself in a way that you might not otherwise be able to do. If there is any missing information in your specific niche, you can fill in that gap when you're writing.
Having a blog can lead to other types of business and other types of traffic generation opportunities. People can contact you about business simply because they've read your blog and liked what they saw.
You can tell your own story through blogging. It allows for you to act as your very own media company. You don't have to rely on journalists. You get to portray your story as you see fit. This also allows you to make sure that everything you post is factual and truthful.
Your blog can help you stand out. Whereas most people are just reading through things, you're actually writing them. Standing out is important in the increasingly competitive internet market.
Blogs can act as a resume, just like it acts like a business card. If you are blogging about a topic you consider yourself an expert in, you can show this expertise to readers, future employers, and customers.


---
Where to Set up Your Blog
Making a choice on where you want to build your blog is the first thing you need to do when you decide you want to start blogging. It's arguably the most important step to starting your blog and becoming successful. There are plenty of options out there, so let's start out by answering an important question first: free or self-hosted?
---
Deciding Between Self-Hosting and Free Alternatives
This is one of the biggest decisions are you're going to have to make when you decide to set up a blog. You need to decide if you're going to be paying for your blog or if you're going to be using a free option.
WordPress, Tumblr, and Blogger are all free blogs for anyone to use. That sounds pretty awesome, right? Of course, there are some downsides to using one of these free options. You don't get your own domain name, for starters. You're going to have something like myownblog.tumbler.com. There are also limits to free blogs. You can't really monetize it, and you can't upload all the video and images that you'd like. You also don't own your own blog. It's hosted by someone else, and they can delete it anytime they want to.
However, if you have your own blog, you are the true and only owner of it. You can name it whatever you want, you can personalize it however you'd like, you can have unlimited bandwidth for your videos and images, and you can have all the content you'd like. You might be worried that you can't afford it, but it's not as much as you'd think. Owning your own blog typically comes down to $5-$10 a month.
---
Starting Your Own Blog that You Own
Okay, so we're going to move forward under the premise that you've decided to own your own blog. If you have, that's great! There are many options for where to build your blog. Let's take a look into one of them – Wealthy Affilaite's SiteRubix as an example of where you can set up your blog. The guide is pretty simple.
Set up a Free Wealthy Affiliate Account. This is a pretty simple step to do. Just fill out their form with your details. You won't even need a credit card.
Register your domain name. Once you've decided what to call your blog, you simply enter your domain name idea into the search bar and find out if it's available. Once you've picked something out, you simply add it to the cart. Remember that .com, .net, .org domains are generally preferred if you want to be taken seriously! Once that's done, you simply check out with your domain name, and then you're ready to start your blog.
Work on building your blog with WA's Website builder. You can learn all about choosing a theme and customizing it!


---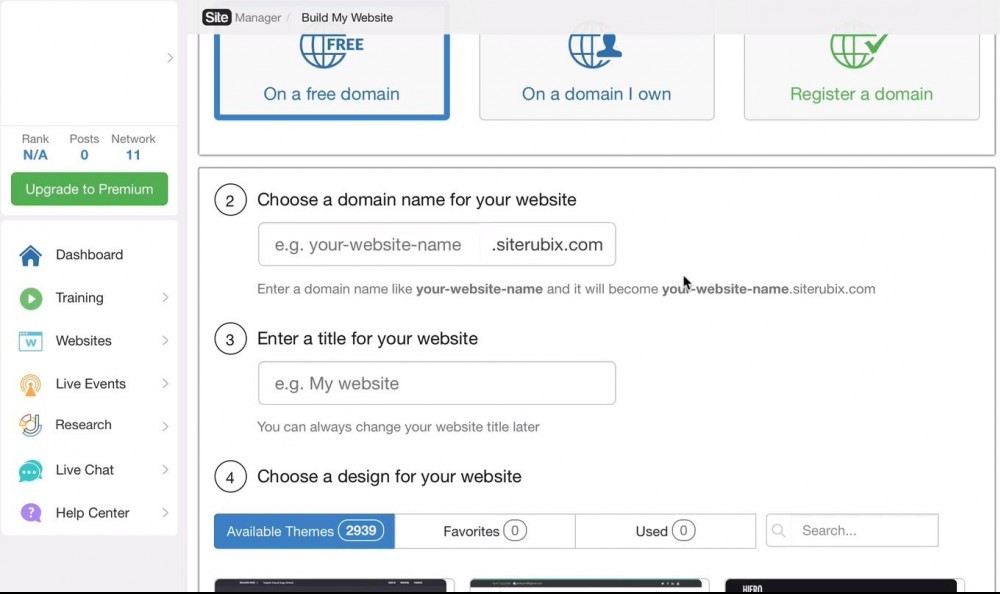 ---
There are many more options available other than Wealthy Affiliate, but this is a great one. WA hosts on Amazon Web Services and you have thousands of themes available via WordPress. Whatever you choose, you're going to be well on your way to starting your blog and reaping all the benefits!  Comment below if I can help you in anyway.