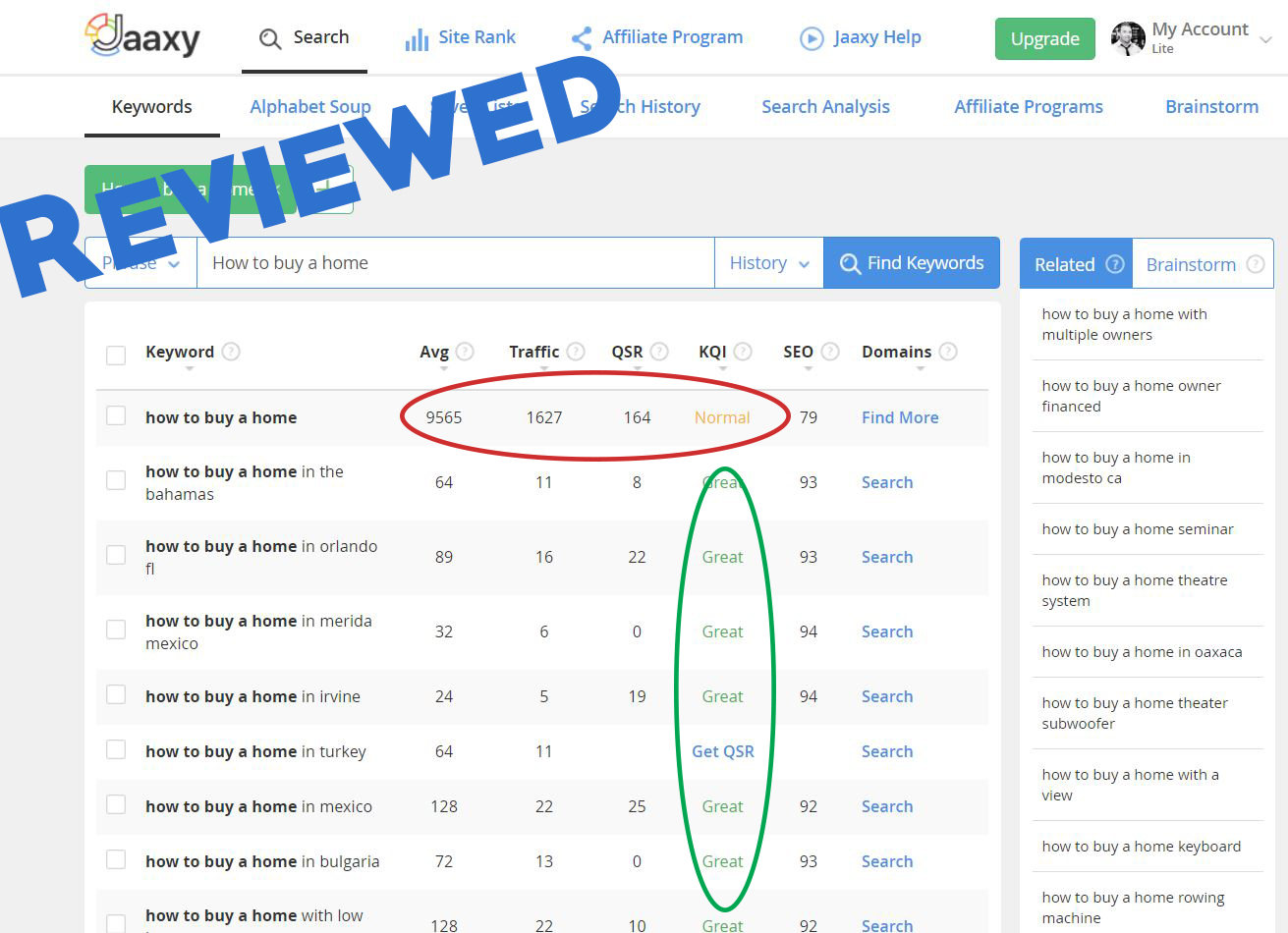 There are a number of keyword tools for SEO to choose from.  Google has a keyword planner and SEMRUSH offers a decent program BUT Jaaxy was intentionally made for internet marketers.  I find it extremely simple to understand and easy to navigate and ultimately, a game changer.   With online businesses popping up like weeds, it is extremely important that the tools be almost effortless.   And Jaaxy offers everything that a novice or advanced marketer would want. BUT this review is more about how it can benefit your bank account so scroll down for the money talk.
Jaaxy Review- A Keyword Popularity Tool

---
Let's dive right in.  If you love to write, own a blog or operate an E-commerce site, you're going to want to know the specific "words and search phrases" the general public are searching within your niche.  In the past, it was extremely difficult to figure all that out.  Now, with a tool like Jaaxy, it's smooth as butter.  And fun to play around with.  It's interesting finding out how many people search certain topics and "keywords."
For example: 
Let's say you have a car site and/or blog and you search "fast affordable cars 2019".  
Jaaxy breaks down all those keywords thrown together as someone would search for them via Google, Yahoo or Bing.
Average:  This is the average number of searches this keyword receives per month.
Traffic:  Visits to your website if you achieve first page rankings in the search engines.
Quoted Search Results: The number of competing websites that are ranked in Google for the exact same keyword
SEO: A score based on traffic and competition. The higher the score, the more likely you will be ranked for this keyword on the first page.
---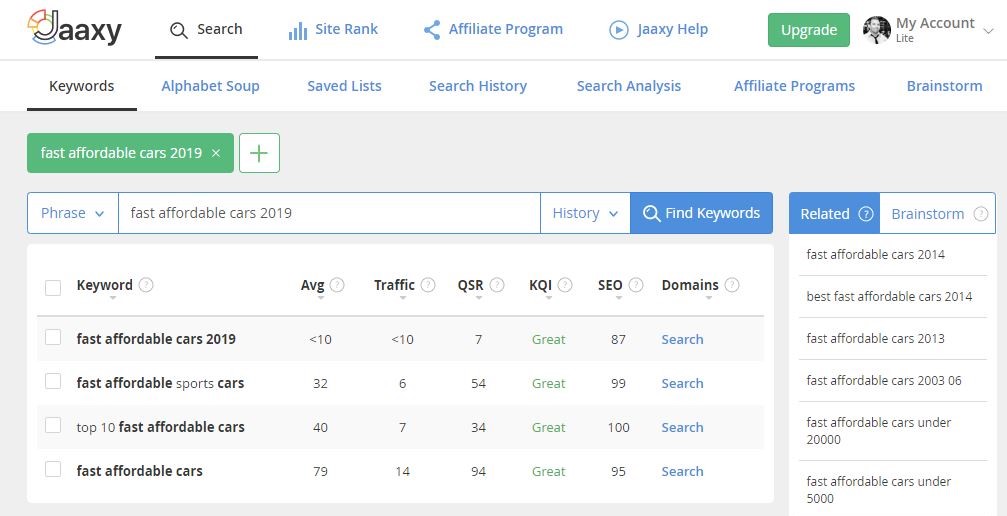 (If you're a Wealthy Affiliate member, Jaaxy will be included in your membership and taught exactly how to use in their boot camp.)
As you can see, less than 10 people search that phrase and it will lead less than 10 people to your site but your competition is only 7!  And that traffic adds up!  "fast affordable sports cars" gets an average of 32 searches per month and will lead an estimated 6 people to your site but you're now competing with 54 other sites.
SO….play around with those keywords.  Try, "affordable cars that are fast", "fast cars that are affordable", etc.  Find a keyword phrase that has low competition (QSR) and higher traffic.  It's all a fun numbers game.
Take a look at the second option that pops up in Google Search….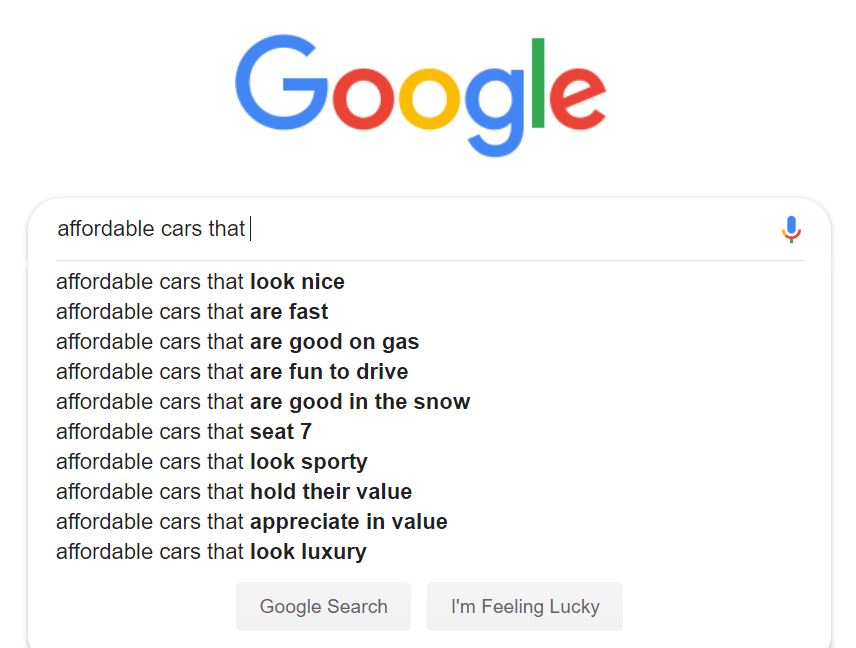 Jaaxy offers a number of other helpful ways to jump ahead including niche research, find available domains related to your keywords,  automatically checks your keywords for search engine rankings, helps you find other affiliate programs, etc.
Jaaxy uses data directly from Google and it combines that with their own proprietary date and out comes, not only the quickest but the best key word results I have seen yet.
I'm very pleased with the Jaaxy Lite which is included in the Wealthy Affiliate program.
Choose the Jaaxy that suits you.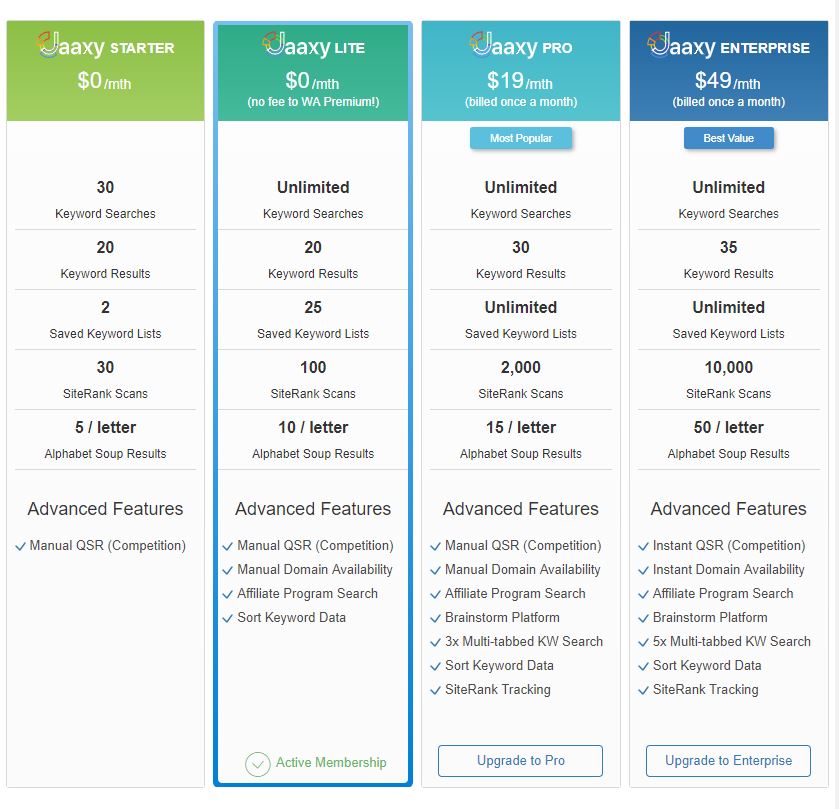 ---
Jaaxy can also make you money, so let's talk dough.
Jaaxy pays out the hoohaa for referrals. A keyword marketing tool might be niche program but if you're in the right crowd or know how to reach certain people, it can be just another way to bring in hundreds or thousands of dollars a month.  Like everything else, this could be a numbers game.  I would much rather work from home figuring out creative ways to promote then be stuck in an office.  Here's an example: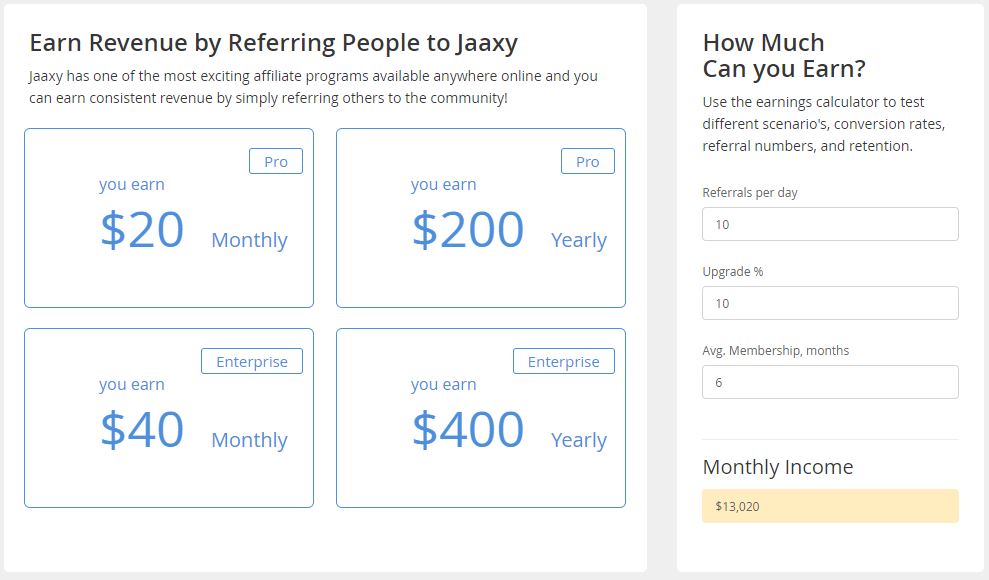 If you take a look above to the right, you can see how lucrative this can be just by reaching out to 10 people per day and given one of them upgrades to a 6 month membership.
If someone were to go all in on any of these affiliate programs that I have recommended and put in 20 hours a week plus a little capital, I'm sure after some time, they could generate more then their current day job.   The difference is with this option, you can take your foot off the gas and take a day or two for yourself and the revenue won't stop.
---